Have you heard the one about the doctor who couldn't operate because he had no patients? Or maybe the puny joke about the surgeon who counted his operations in "incisions and out sessions"? Whether you're a medical professional or just enjoy some good owl' humor, doctor puns can cure your laughter and tickle your funny bone. In this article, we'll share with you of the best doctor puns that will make you laugh, groan, and maybe even learn a thing or two about medicine.
What are Doctor Puns?
Doctor puns or medical puns are wordplay or jokes that play with the theme of medicine, health, wellness, and medical professionals. They're usually lighthearted, goofy, and clever, depending on the context of the joke. Doctor puns can be about anything from body parts and organs to medical procedures, health conditions, and even hospital experiences. They're popular among medical professionals, students, and anyone who wants to inject some humor into their daily dose of medicine.
Best Short Doctor Puns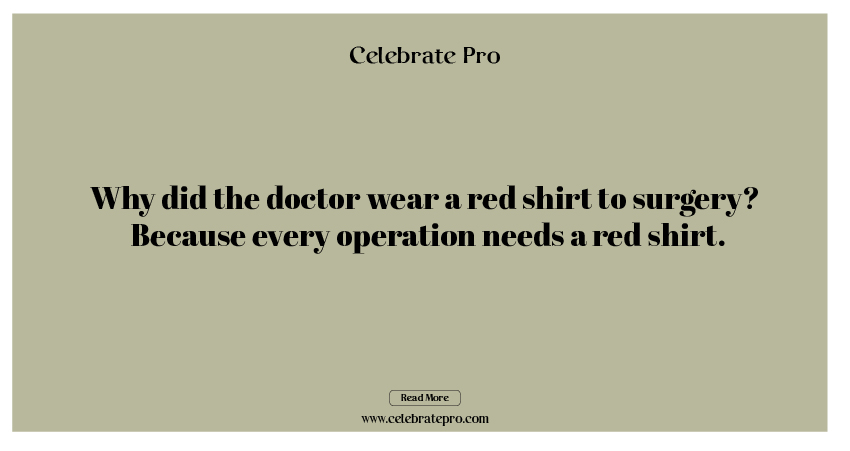 Good One-Liner Doctor Puns
Funny Puns for Doctor
Creative Doctor Puns for Kids
Best Puns for Nurses
Conclusion
Puns are a great way to add humor and lightheartedness to any situation, especially in healthcare. Whether you are a doctor, nurse, or just someone looking to brighten someone's day, using puns can be a fun and creative way to break the ice or provide a laugh. With these 75 puns for doctors, nurses, and kids, there's sure to be a pun for everyone. So why not give it a try and see where the puns take you?
Remember, humor can have many positive effects on a person's mental and physical health, and can also help to build relationships and trust with patients. However, it is important to always be mindful of the context and audience, and to avoid making light of serious medical issues or conditions. Ultimately, using puns and humor in healthcare settings can be a great way to lighten the mood, relieve stress, and connect with others. So, go ahead and use these puns to inject a little laughter into your day.