Are you looking for a nickname for your James, or are you a James looking for a fresh new nickname? Don't worry; we've got you covered. We've compiled a list of over 275 nickname ideas for James, from funny to adorable. In this article, we will go through the origin of the name James, popular nicknames for James, funny nicknames, cute nicknames, and notable people named James.
Where Does the Name James Come From?
The name James has a rich history and a fascinating origin. James is of Hebrew origin and means "supplanter" or "one who takes the place of another." The name is derived from the Hebrew name Yaakov, which was then translated into Greek, resulting in the name Iakobos. James is the English variation of the name Iakobos.
The name James is a popular name worldwide and has been used throughout history. It has also been used in various religious texts, such as the Bible, where James is the name of one of the twelve apostles.
All Alphabetical Nicknames For Boys. A-Z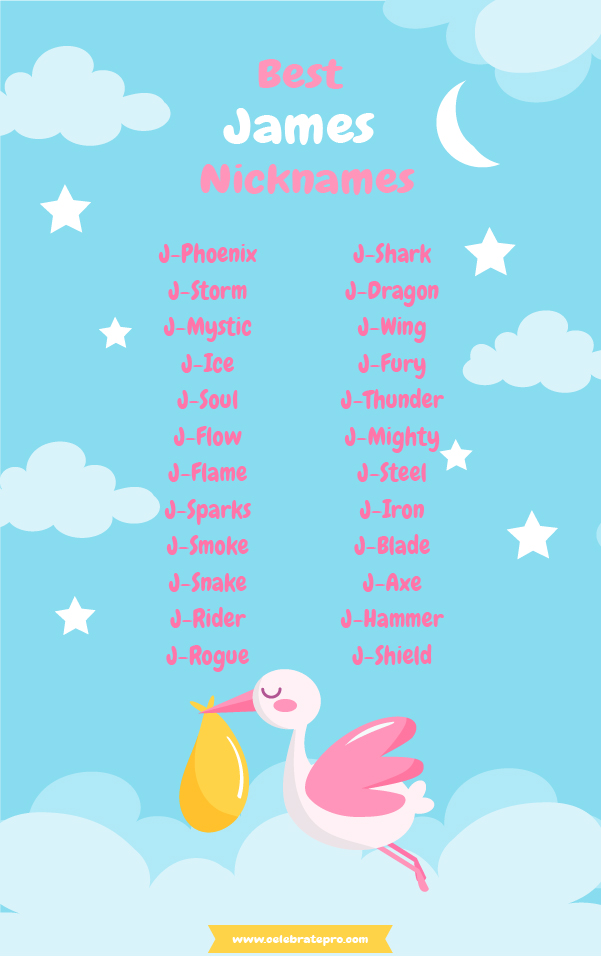 50 Funny Nicknames for James
Jimbo Slice
Jamie Dodgers
Jay-Z
James Bond
Jimmy Neutron
Jimothy
Jamsie Pamsie
Jamesy Boy
J-Kwon
Jimmy Choo
Jacques
Jedi James
J-Dog
J-Doggy-Dog
Jimbo Jambo
Jazzy James
Jammin' James
Jimbo Jimster
Jimba Jam
James Tiberius Kirk
J-Bird
Jameson
Jamestown
Jimbojones
James Brown
Jammin' Jay
James Dean-o
Jumbles
Jimothy James
J.T.
Jammy Dodger
Jaymes Bond
Jiminy
Jimmy Jam
J.D.
Jammy James
Jimaniac
Mr. J
Jumpin' James
Joker James
Jambalaya
J-Dawg
J-Train
Jazzy Jay
Jaybird James
Jimbo Jangles
Jamesy
J-Dub
Jimithy Cricket
50 Best Nicknames for James
Jamey
Jimsy
Jem
Jamieboy
Jamin
Jaymie
Jimmy
Jimbo
Jameson
Jaimie
Jaimo
Jaymo
J-Bop
Jimothy
Jayman
Jethro
Jayvee
Jiman
J-Man
Jamesy Bear
Jammy
Jayce
Jeeves
Jayson
Jax
Jimmeh
Jizzle
Jazzy
J-Boogie
Jay Jay
Jamie James
Jimi
Jayden
Jet
J-Town
J-Money
Jamaro
J-Fresh
J-Dubbs
J-Roc
Jayden James
J-Diddy
J-Stew
67 Short Nicknames for James
If you prefer a shorter nickname for your James, here are fifty options to choose from:
Jace
Jas
Jame
Jem
Jax
Jett
Joss
Jaxx
Jossy
Jaye
Jae
Javi
Javiar
Javiel
Javiere
Javion
Javius
Jayce
Jaycob
Jaydan
Jayde
Jaya
Jayen
Jayin
Jayko
Jaylen
Jaylin
Jaylon
Jaymes
Jaymin
Jaymus
Jayron
Jaysen
Jayvis
Jayzon
Jeames
Jebediah
Jedd
Jeddy
Jedidiah
Jedrick
Jemmy
Jep
Jeremy
Jeri
Jerri
Jerry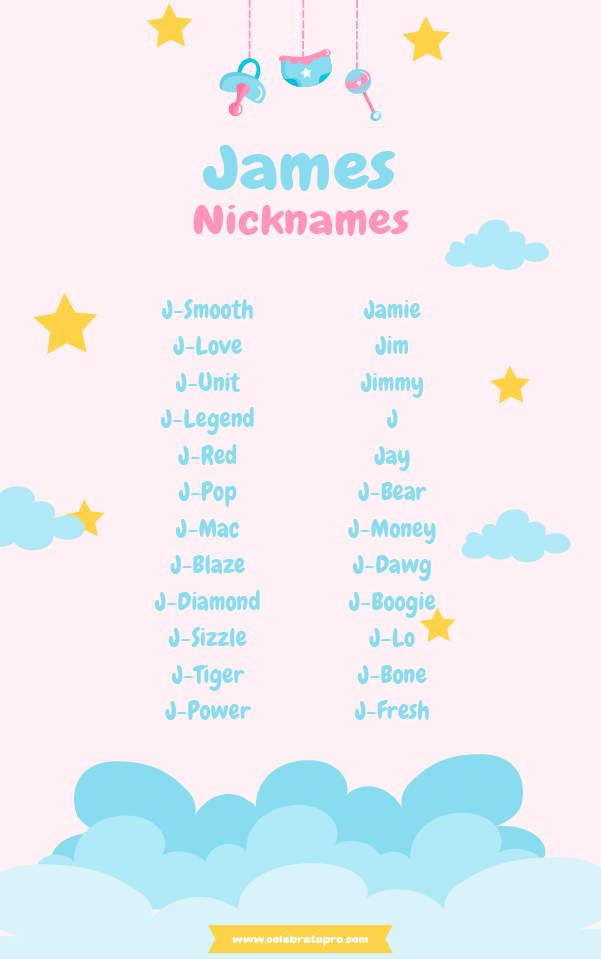 55 Popular & Rare Nicknames for James
Here are fifty-five popular and rare nicknames for James:
Jim
Jamie
Jay
Jem
Jase
Jamey
Jet
Jaymie
Jimbo
Jayden
Jaimie
Jaxon
Jayce
Jotham
Jareth
Jaylen
Jaxson
Jevin
Jaylan
Jazz
Jalen
Jaiden
Jaimeson
Jash
Javian
Jeannot
Javion
Jaidon
Jedrek
Jafari
Jandrew
Janesh
Jahmal
Jabez
Jaimes
Jaret
Jankin
Janito
Jauquin
Jarmo
Jaromir
Jari
Jarik
Jabrien
Jasko
Jarick
Jediah
Jejomar
Jandu
Jaycen
Jairo
Jasson
Jacy
Jaden
Jaxxen
51 Cute & Adorable Nicknames for James
Here are fifty-one cute and adorable nicknames for James:
Jamiebear
Jaybird
Jiminy Cricket
Jemima
Jamielove
Jambalaya
Jimmer
Jamieboo
Jman
Jaymeister
Jimbug
Jaimi
Jammer
Jammypie
Jamesie-Pooh
Jamesiekins
Jamiekins
Jameseroo
Jamesiebear
Javy Bear
Jaymer
Jaybug
Jim-Jams
Jayme
Jamiejay
Jambie
Jayjay
Jemjam
Jaimo
Jambie
Jamieboo-boo
Jamison
Jamesykins
Jamiebobble
Jimmiejohn
Jemmybear
Jameso
Jamepie
Jem and the Holograms
Jayjam
Jayboo
Jaylo
Jaypup
Jayroo
Jembo
Jamezzy
Jamsicle
Jimmitor
Jamiepancake
Jaymee
Jamesonbear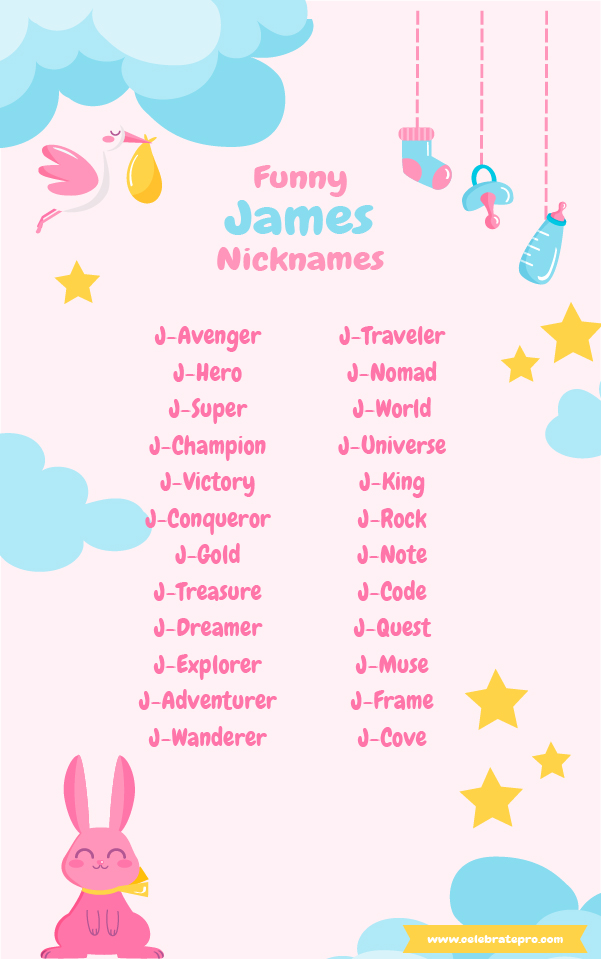 Famous People Named James
There are countless famous people throughout history named James. Here are just a few notable examples:
James Bond – fictional character in a series of spy novels and films by Ian Fleming
James Cameron – Film Director, Producer and Screenwriter
James Dean – Actor and cultural icon
James Joyce – Irish novelist and poet
James Madison – US President
James Marsden – Actor
James McAvoy – Actor
James Patterson – American author
James Rodríguez – Colombian footballer
James Stewart – American actor
James Woods – Actor
Key Takeaways
Choosing a nickname for someone can be a fun and personal way to show your affection for them. Whether you're looking for a classic or a creative nickname for your James, this list of over 275+ ideas has something for everyone.
From funny nicknames like Jammin' Jay and Jedi James to adorable options like Jemjam and Jamesie-Pooh, the possibilities are
endless. And if none of these suggestions quite fit the bill, you can always make up your own unique nickname for your special James.
Keep in mind that nicknames are best when they're given rather than forced. Your James might already have a nickname that they prefer, or they might not be interested in having one at all. It's important to respect their wishes and not impose a nickname on them if they're not comfortable with it.
Ultimately, the best nickname for your James is one that reflects their personality, brings a smile to their face, and makes them feel loved and appreciated. So have fun exploring these options and finding the perfect moniker for your James!